---
Welcome to The Equestrian Selection project!The idea behind this project is to give an easy and quick way for the pony fandom musicians to get their music discovered, and for listeners to find new music.The Equestrian Selection by itself started as a playlist project.
Currently this project hosts two playlists, one on YouTube, and the other on Spotify.Submitting your music to said playlists is fast, free and easy, and every pony musician is welcomed!There is no judging process nor quality plank. As far as your music has to do with MLP, its going to get accepted.
The playlists get updated every week.We also feature a release spotlight, showing the newly fandom music releases!Besides The Equestrian Selection, there is also The Equestrian Showcase project, this is a yearly concert happening in Pony Town, featuring DJ sets and the best selected music (by the musicians themselves) from the past year before the concert!Submit your music for the playlists or find more information about the projects below!
---
---
---
---
The Equestrian Selection
---

Welcome to the submission form for The Equestrian Selection playlist!
This form is for both brony musicians and fans.
The idea behind this project is to create a brand-new Spotify/YouTube playlist where musicians from the fandom can get discovered!
This is an independent way of promotion, open for everyone.
A playlist is a simple, free, and mutually beneficial form of promotion, as I discovered while getting myself placed on different curator-based playlists.
If a song is listened to through a playlist, the musician that song belongs to will see the playlist on their Spotify profile or YouTube analytics pages, which will allow for further discovery and traction. This could also lead to the playlist getting more algorithmic exposure, attracting more organic listeners as a result.
Making it work is really quite simple; you just need to listen to it. Specially your own songs if you are on it, so the playlist appears on your profile. That way several artists can get linked together, small and big equally. Even compilation albums.
Adding the playlist to your favorites will help the algorithm as well.
Think of it as an engine, which will work by its own after its given enough power to operate.
For listeners, it will help with music discovery and having a ready-to-go up to date playlist for any activity like drawing, streaming, and so on. For musicians, it will help getting discovered and maybe even finding possible collaborators for the future.
There will be a maximum of 50 songs in the Spotify playlist and 80 on YouTube. Once they reach these numbers, older songs will get replaced by new submissions. You can submit the same song multiple times, but it will be better if you submit different songs to keep it always fresh. If your song gets deleted, feel free to submit a new one!
The update will happen once in a week, and every submitted song will get in, unless a musican from it is already in the playlists twice.
The submission rules are simple:
Only 2 songs per artist. Any length. Any genre. Including collaborations. Doesn't need to have a pony visualizer, but must be MLP related/inspired. I'm accepting only brony musicians.
If you are a fan, you can submit some music from your favorite brony musician, if that artist is not twice on the playlist yet.
As for musicians, just send me what you consider your best tracks!
The songs will be added in submission order. For listeners is recommended to play on shuffle for a more interesting experience.
---
The Equestrian Showcase
---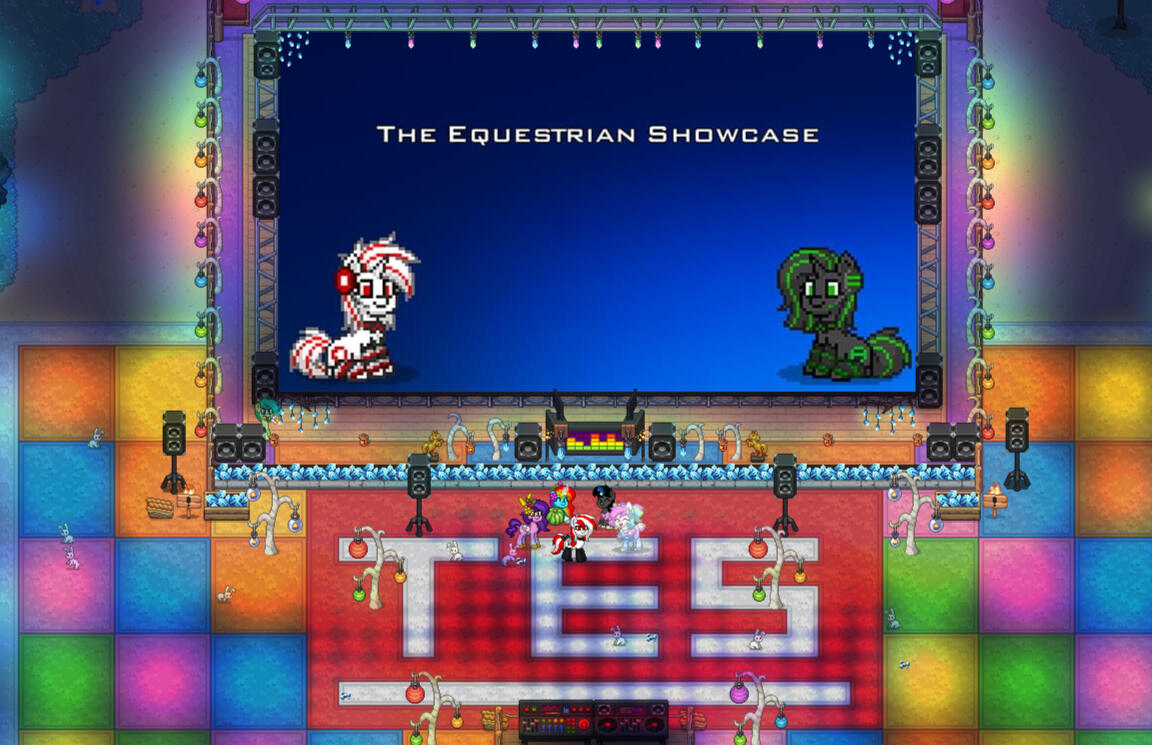 Welcome to The Equestrian Showcase information document!
The Equestrian Showcase is a yearly event, hosted on Pony Town Events, and the main goal of this event, as the name suggests, is for musicians to showcase their best work to the public, promoting and giving discovery equally for small, underrated musicians and fandom veterans.
As it was just stated, the main goal is the same as in the Equestrian Selection playlists, promotion and discovery, but this event is aimed at a bigger stage and only once a year, unlike the playlists which are active the whole year and constantly refreshing.
The event will always be aimed to take place in mid-late January or early February of each new year and showcase the music from the past year.
For example, the 2023 showcase hosted in February featured the best selected music from 2022.
Besides the main showcase, we have featured DJ sets for your maximum entertainment!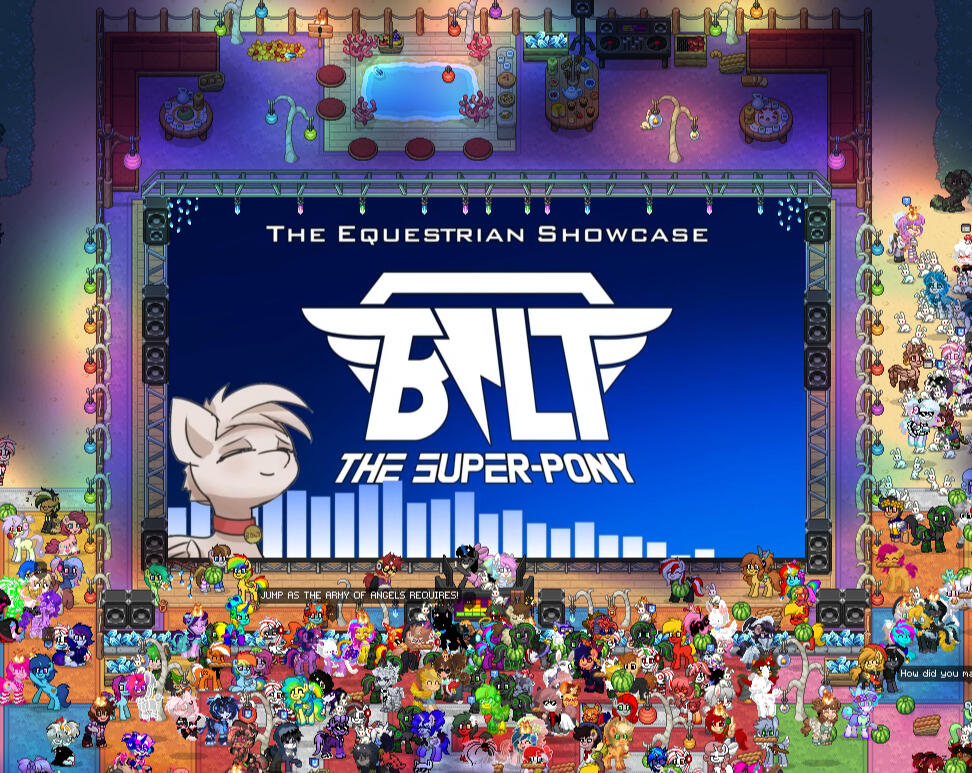 ---
Just like for the playlist project, musicians can submit their music for it to get showcased, however this project is a little bit different in rules and submission form.
Any musicians, big or small with any level of experience will get accepted. To not overextend the event duration, only one song per musician will get accepted for the showcase, along with one optional collaboration song. Pretty much like for pony music collective albums, but more limited in quantity, as this will be open for everyone and therefore the event might get extended for too long with many submissions.
FUF fact: The showcase from 2023 lasted over 8 hours and had 8602 unique visitors!
So, we suggest selecting your best work for this showcase, something which represents you the best!
All submitted songs must be only from the last year, as this showcase is aimed to be a yearly event and showcase the best of the year.
For example, the 2023 showcase features music from 2022.
2024 will feature music from 2023, and so on.
There is no limitation in length, however we advise to stay below 8 minutes, and as for the explicit themes, since the event will take place on Pony Town Events, we suggest keeping the themes to their standards and rules, so please keep that in mind when choosing your song.
The submission form is slightly different for this project as well.
Instead of YouTube and Spotify links we'll be accepting only MP3 files, and along with the song, we ask to provide a note document with short and easily readable links to your socials, and a cute picture of your oc/sona without background. Can be from Pony Town too.
This concert uses the live streaming features from Pony Town Events, which means we have a visualizer which features your name, song name, socials, and your oc.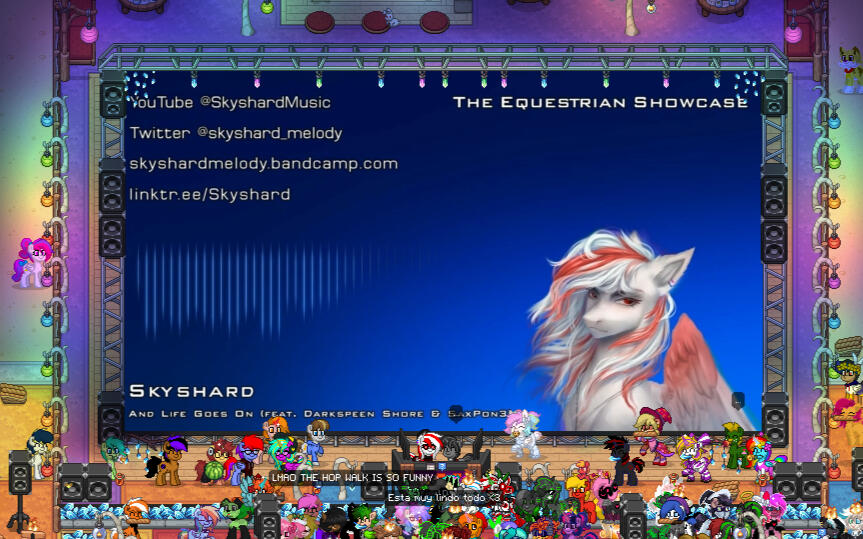 The submission form is available in classic form via the Google submissions, and directly by email.
It will open every year around December, so you'll have almost 3 months to submit your tunes. Stay tuned for the announcements!
We hope to see you all there!Submission form
Email: [email protected]
Deadline: January 31
Currently closed until the next showcase, stay tuned!
---
Short recap for the submission rules
1. MP3 Files only.
2. Short and easy to read links, as they will be placed in a video player.
3. A PNG with no background of your OC to place along with the visualizer. If you don't have any pictures, you can send your Pony Town assets instead. There is an option in the character creator to export a PNG without background.
As suggestion, you can place all the materials in one rar/zip archive, including the MP3, a note document with your links, and the picture.
Cloud drive folders are also welcome.
Email template:
Artist name:
Song name:
Featuring (optional):
Collaboration song (optional):
With:
Socials:
---
Canterlot Archives

Below you can find The Equestrian Selection tracking documents, The Equestrian Showcase past VODs, useful documents for musicians, and other goodies like sample packs.
Tracking documents
TES past VODs
Skyshard's Manuscripts
Other goodies
Release Spotlight

Welcome to the EQS release spotlight!
On this page we will feature the latest releases on the musical side of the pony fandom!
Each time when enough new releases are collected, this page will get updated and newly releases will replace older ones, but don't worry, you still can find the articles about the older releases on the cloud archive!
Besides, each release featured here goes into the YouTube playlist of EQS.
Each release comes with a small article written by the amazing Emma aka TheMadhatterbrony
Enjoy!
---
The Equestrian Spotlight presents:
---
Jyc Row - Eternal Night's Utopy
Genre: Orchestral/Trailer Music
Length: 2:40
Mood: Epic
Remix/Cover or Original: Original
As part of his series of Trailer pieces, Jyc Row composed this track for a movie that would see Nightmare Moon as the main character. This track shines with its hard hitting combination of drums and a little bit of vocals, strings taking a back seat in a big portion of the track.
---
Skyshard - Pulsars
Genre: Synthwave
Length: 1:08
Mood: Upbeat, quick
Remix/Cover or Original: Original
As part of her little album of unfinished bits and pieces, Skyshard has brought to us a little Synthwave nugget by the name of Pulsars. Clocking in at just over a minute this track is very short, but in just this short duration it already manages to be a fun look into the world of Synthwave!
---
JayB vs. Fluttershy - I Love Everything (Nicolas Dominique Remix)
Genre: Trance
Length: 3:34
Mood: Happy, Melodic, Upbeat
Remix/Cover or Original: Remix
After seeing it plop up on the Brony Music Anniversary Twitter, Nicolas Dominique decided to redo his remix and present us this amazing new version. The track is packed with trance fire from front to back and Fluttershy vocals are always a joy!
---
EveryDayDashie - Roadtrip to the Maretime Bay
Genre: Folk/Country
Length: 4:45
Mood: Happy, Upbeat, Relaxing
Remix/Cover or Original: Original
As a little entry to the month of May, EveryDayDashie has composed this lovely piece, bringing the calm and relaxing energy and lots of Violin power from Dashie himself! This track feels like a lovely breeze, running across your face.
---
Koron Korak - Welcome to the Everfree Encore
Genre: Hardstyle
Length: 5:30
Mood: Upbeat, Happy
Remix/Cover or Original: Original
As an intro to his set for the Everfree Encore, Koron Korak brings us this absolute banger full of melodic synths, some vocal chops, and of course a banging kick that'll send your speakers into the stratosphere! It's no secret that I'm a Hardstyle Addict, but I can promise you this song is something for almost everyone, so take a listen and enjoy!
---
Evershade & MelodyBrony (ft. ProtoShadez) - Pushin' Buttons
Genre: Electro Pop/Synth Pop
Length: 4:01
Mood: Upbeat, Seductive
Remix/Cover or Original: Original
Well, this is a musical take on a pony most people first hated and then quickly forgot about, Suri Polomare. Pushin Buttons, apart from fitting very well to her Cutie Mark, is a banging track full of fun sounds and lovely vocals. This track will have you bopping your head to the exciting beat!
---
Darkspeen Shore - Thyme for Dinner
Genre: Orchestral
Length: 3:29
Mood: Soothing, Dark, Militaristic
Remix/Cover or Original: Original
This song is one hell of a ride as you probably already guessed from the mood! Featuring the sounds of ticking clocks, this song is all about Time! Or was it Thyme? You should go find out!
The song starts out very militaristic, featuring marching drums and all the usual that you'd expect from sort of a military marching anthem. This is followed by a softer, more soothing section, only to turn over into a dark melody, featuring choral chants and even a harpsichord!
---
EveryDayDashie - Pipp Petals
Genre: Electronic/pop
Length: 4:24
Mood: Upbeat, Adoring, Motivating
Remix/Cover or Original: Original
More from EveryDayDashie! This time featuring vocals from both Dashie himself and Pipp through voice.ai! All this over a lovely Pop beat with some electronic flavouring! This track is certainly a thing to enjoy and especially the vocals stand out as being both Adoring from Dashie and Motivational from Pipp!
---
Skyshard (ft. Koron Korak) - Tiny Sky
Genre: Orchestral
Length: 1:49
Mood: Soft, Emotional
Remix/Cover or Original: Original
As the titular song of the Album, Tiny Sky is in fact tiny at only a minute and forty-nine seconds, but the piece still conveys a lot of emotion! Combined with the lovely violin of Koron Korak Skyshard created a song that speaks volumes of emotion in a very short time.
---
Pixel Raver - Turmoil
Genre: Deep House
Length: 3:04
Mood: Dark, Militaristic
Remix/Cover or Original: Original
This track starts out very militaristic sounding, almost giving a Papers, Please kind of vibe and as more elements are added it quickly becomes a dark track. Featuring lovely melodies and crips kicks, this song honestly surprised me in its quality and I can definitely recommend you give it a listen!
---
Pixel Raver - AstrTurf
Genre: Synthwave
Length: 3:27
Mood: Happy
Remix/Cover or Original: Original
This track is a lovely little Synthwave experience, featuring several fun sounds and noises with a lovely melody that'll get stuck in your ear!
---
TheHappyPony - Woke Up First (In Equestria)
Genre: EDM/House
Length: 4:47
Mood: Chill
Remix/Cover or Original: Original
This track feels like a relaxing afternoon and is honestly perfect to put on when just chilling out a little, with a soft melody, punchy kicks and energetic claps and hihats this track got it all and manages to be exciting and relaxing at the same time!
---
Nyanakaru - Oneiromancy (RR64 Remix)
[Loud volume warning]
Genre: Hardcore
Length: 2:33
Mood: Fast, Upbeat, Crazy
Remix/Cover or Original: Remix
This track….where do I even start lol
This track is ridiculous and that's exactly what makes it so fun!
Featuring a catchy melody, crazy fast and high pitched vocals and hard hitting kicks this song is stupid amounts of fun!
Hardcore is not for everyone, and that's okay, but if Hardcore is something for you you're gonna love this song!
---
Ethan Toavs - Sunny Daze
Genre: Orchestra Pop
Length: 2:17
Mood: Happy, Upbeat
Remix/Cover or Original: Original
Ethan Toavs has been on a roll with his G3 tracks, and they do not disappoint! Featuring all manner of lovely instruments from your classical strings to shakers, this track is a pleasure to listen to!
---
BGM - VENGEANCE
[CONTENT WARNING: MENTIONS OF DEATH AND MURDER]
Genre: Metal
Length: 4:54
Mood: Aggressive, Hateful
Remix/Cover or Original: Original
In this track BGM approaches the idea of what would happen if Twilight focuses less on redeeming the show's villains, but would rather take them out after redemption doesn't work, conveying everything into a lovely metal shape.
---
Dijit (ft. ThatMusicBrony) - Spacefunk (PumpkinZ Remix)
Genre: Tech House
Length: 3:19
Mood: Upbeat
Remix/Cover or Original: Remix
Today PumpkinZ brings us this new take on a banger! Featuring the lovely vocals of ThatMusicBrony and the new House beat from PumpkinZ, this track is a fun experience to listen to and definitely does the original justice!
---
Daniel Ingram - Good Vibes (Ice Angel Remix)
Genre: Future Bounce
Length: 2:56
Mood: Happy, Upbeat
Remix/Cover or Original: Remix
Today Ice Angel brings us this lovely remix of Equestria Girls' Good Vibes, putting on a brand new Future Bounce coating and the end result slaps! I definitely recommend having a listen to this absolute banger of a Remix!
---
Ruby - Iconic (Voltex Pixel Remix)
Genre: EDM
Length: 2:45
Mood: Upbeat, Happy
Remix/Cover or Original: Remix
Voltex Pixel bringfs us this remix of Iconic from the latest Chapter of G5, combining the lovely vocals with a whole host of electronic sounds, bringing a lot of power to this track!
---
Makaryo - WILL I EVER MAKE MY OWN MARK
Genre: Alt. Rock
Length: 3:42
Mood: Sad, Sombre
Remix/Cover or Original: Original
With his newest track Makaryo brings us a track of Misty lamenting about what she perceives as her constant failures and shortcomings, something that some can definitely relate to. The track really brings across how Misty must feel under the constant reign and criticism of Opaline.
---
Articles by Emma aka TheMadhatterbrony
Updated by Skyshard
Last update: May 23, 2023 Equestrian Time.

We try our best to track new releases, however its easy to miss some, and for this case you can submit your new release yourself!
Simply follow the submission form below.
Alternatively you can submit your release by just throwing a DM on our Twitter or via email (found below on the page), and also you can DM me on Discord directly Skyshard#7494.
Your submission must not be older than a month.

We accept singles, albums and EPs.

We only accept fandom musicians and your release must have at least a small connection with MLP, be that in name, description or a visualizer.

We accept albums and EPs as long as they are on Bandcamp

If you submit via DM, please state your business right away with a link to your submission. Please don't just send a "hi" and wait for us to respond, especially on Discord, as I take messages like that as spam.

Use "Release Spotlight" as email CC for easier filtering.

The Spotlight gets updated once enough releases are collected, so there is no specific publication date. Usually it shouldn't take over 2 weeks, however if during this time your submission gets older than a month, don't worry, it will still be in the list!
Currently we track releases from:
A State of Sugar promotion channel (discord server)

VibePoniez promotion channel (discord server)

Equinity promotion channel (discord server)

Ponies At Dawn promotion channel (discord server)

PonyVilleFM promotion channel (discord server)

YouTube feed (not very reliable)

Twitter following feed (extremely not reliable)